Faceless Souls are brothers and sisters who honor those who have died and sacrificed for our country and also who have served and sacrificed ourselves. We consist of Veterans, Active Military, National Guard and Civilians that have support us in our missions and goals.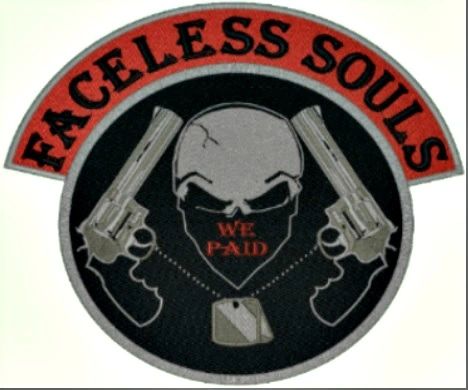 Colors and Patch Meaning
Faceless Souls Name - Honors the faceless and nameless soldiers that have died and fought for our freedom and country.

Red - ("WE PAID") The color Red honors the blood of soldiers who were killed or injured in the line of duty, protecting our freedoms and preserving the American way of life and the blood of our brothers and sisters.

"We Paid" are the dues that our Military, Veterans, and their Families have endured for our country and freedoms.
Silver & Black – The color Black represents the death of those lost fighting for our freedom. Silver represents the Silver Star for valor.

Dog Tags – Represent our military service and orientation. Left blank for all the nameless and faceless soldiers that have fought and/or died for our country and freedom.

Crossed Pistols - The crossed pistols are the symbols of the tools of the military and American's to maintain our lands and the lands of others, also the right to bear arms. Don't Tread On Me!

Membership


We support our military and veterans. We are looking for riders who believe in saving our country and help us get the word out by riding locally and nationwide by helping us build a reliance against people trying to take our freedom. We are looking for members to start charters outside of Oklahoma City. You don't have to be previous military to be a member. You must be active in the club and respect our brothers/sisters and the club.



We take military, veterans, non military, male and females. You must own a motorcycle and plan to ride it. We love to ride and have fun but also have a couple missions we must accomplish. We help our American community businesses. If you are interested check out our website. You can contact me by the website form.


We accept women and men who are offering their time to help us in our missions in raising money and awareness for our causes. We are not seeking people who only expect to wear a patch. We expect for our brothers/sisters to ride and help organize our events, missions and also attend necessary meetings. We seek people who have passion in helping others and who are able to donate their time to help us be successful in everything we do. If you cannot donate your time to help in our missions or ride, this is probably not the club for you. We are very active in our community and riding and we expect participation from our brothers/sisters.

We will not accept membership from anyone who works for or with law enforcement. Law enforcements perception of loyalty, respect and brotherhood/ sisterhood disagrees from ours as it relates to the biker code. Admitting anyone in law enforcement would only project a sense of distrust between the Faceless Souls and the L.L.H.R. code (Loyalty, Love, Honor and Respect) that the biker community has and holds between each other.

The basis of the Faceless Souls is loyalty, love, honor, & respect with brotherhood/sisterhood and anyone who has caused this type of harm to another is not deserving of respect and these acts go completely against the basis and beliefs we live and fight for. We do not accept people that are sex offenders or been arrested for harming a child in any shape or form. Drugs are not tolerated. Background Checks are completed on all interested parties. The region will vote all prospect members in.


We seek no territory. We have no hidden agendas. We check in, and are granted the right to fly by the dominant MC's wherever we have chapters. We believe in every bikers right to ride in peace. We do not lead. We do not follow. We are brothers/sisters. We ride in honor of all Veterans, active military and support our communities that honor and support our country. We ride for those who can't, which means, we ride for those fighting for our freedom and those faceless souls that sacrificed their lives for our freedoms.

ABOUT FACELESS SOULS




We are about pride and unity among our nations Military, Veterans and Civilians fighting for our freedoms. It is our mission to focus our attention locally, nationally, and internationally on the positive contributions made by Military, Veterans and Fellow Americans. We believe our duty and our opportunity to support our fellow Veterans did not end with military service. So through our actions, our community involvement, and our dedication to this cause, we hope to perpetuate the feeling of pride and belonging among our warrior and civilian brothers/sisters. As Veterans and as bikers, we are not alone in this endeavor. We recognize that no single organization can provide for the needs of all Veterans. We are but one of many and in the spirit of "The Brotherhood/Sisterhood" we support all organizations, clubs, and veterans-rights groups whose sole mission is to perpetuate pride, brotherhood, and respect for and among our nations Veterans. As proud members of the Brotherhood/Sisterhood, and we are bound by our honor, the warrior code, and the laws of this great nation, to promote a positive image for all Veterans. We welcome the membership of any veteran who has served their country honorably, and who believes in the Warrior Code. We believe in everybody's right to ride in peace. We will defend that right without fail and to the end.



Mission Statements
Veteran and Active Military support

Military Funeral escorts

Military welcome home and see offs

Ride For America-Raising money for our wounded warriors and disabled veterans.

We are part of the front line for our Wounded Warriors and disabled veterans once they return home. We help by raising money for their families, building wheelchair ramps and remodeling their homes for their comfort of their wheelchairs.

We volunteer our time in events for wounded warriors to help keep them positive and help them through their rehabilitation.
Community support

Call To Action on Amber Alerts for missing and exploited children

Supporting and raising money for our American owned, small local businesses and supporting our smaller communities in rebuilding.

Gun and Safety Awareness and Training

Motorcycle Safety Awareness

Feed The Homeless End Of Summer Run

Ride and Have Fun

We sponsor and/or participate in many motorcycle-related charity events each year, and as a non-profit organization, donate to various veteran care facilities and veteran charities and veteran/military families in need.

We support American owned businesses that support our local bikers community.

We raise money for non-profit programs to help our wounded warriors and other military and children programs. Please enjoy the pictures below. See the tab "About Us" to read about Hannibal & Lektur's Ride For America Run.

We all are brothers/sisters treated equally and will not be discriminated against to gender or sexual orientation, military service, or disability. Our veterans and community are in need far out number us and our time and effort we can give them. This is a task we must all take on. We are a COC approved club. The insignia for our patch resembles active military, fallen soldiers and our civilians .who fight for our freedoms. That is why we choose to honor our wounded and fallen and the current and former military. We do not place the flag on our back as we wear it proudly on the front of our vest.

If you choose to become a member there is a prospect term you must prove to the club you are worthy of our club and seriously interested in becoming part of our family. Hannibal and Lektur also created a "Ride For America" ride for wounded warriors. Our first ride was for Rusty Dunagun, the 23rd triple amputee since Vietnam. We have continued this ride benefiting American Wounded Warrior programs. Faceless Souls has adopted the ride as part of our missions